Schedule Same Day Inspection & Estimates
$100 OFF Termite Treatment through 10/31/2021
Get treatment within 48 hours after your inspection and estimate in most situations. Complete the form to get started now.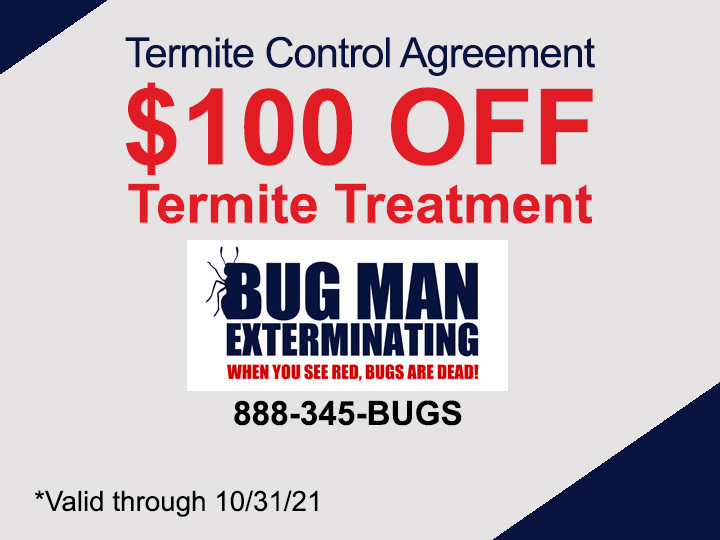 You're probably concerned about the potential damage fires, storms and flash floods can cause to your home or business. But have you protected your home against termites? These pests cause more damage each year than is caused by fires, storms and floods combined.
It's time to protect your home from termites and schedule a termite inspection. Bug Man Exterminating offers effective termite treatments and preventative termite solutions. We provide termite control in Roanoke, Lynchburg, Salem, Botetourt, Vinton, Christiansburg, Blacksburg and the surrounding cities.
Call Us to Schedule A Same Day Inspection!
540.345.2200
---
Signs of a Termite Infestation
A termite infestation should not be taken lightly. Depending on the type of termite invading your home the damages could be serious! The only sure way to know if you have a termite problem is to schedule a termite inspection in Roanoke, VA or any of the surrounding areas. But there are some telltale signs we can share with you!
What are some signs of a termite infestation?
Discolored drywall
Peeling paint or wallpaper
Extremely squeaky floor boards
Windows and doors are harder to open
Mud tubes around your foundation
Termite droppings also called termite Frass
Small holes in walls or furniture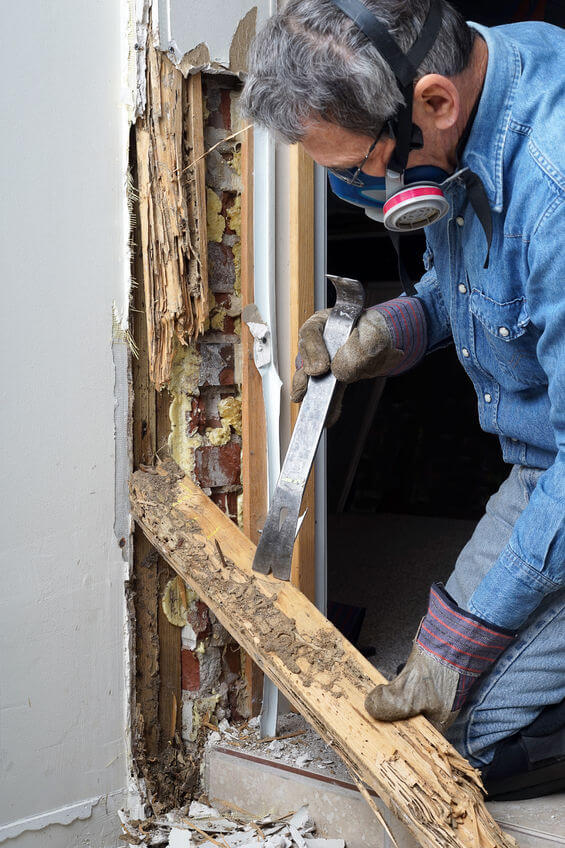 ---
Types of Termites in Southern Virginia
There are tons of different kinds of pests in Southern Virginia. When it comes to termites, there are two types of termites that are commonly found.
So, what are the different types of termites in Southern Virginia?
Eastern Subterranean Termites
Eastern subterranean termites are the most commonly found termite in the nation. You can find them in almost every state! These termites are relatively small and can be any color from white to a dark brown.
Other than identifying them by their color, one dead giveaway that you have subterranean termites in your home is finding mud tubes.
Formosan Termites
Formosan termites are considered one of the most aggressive termite species. This type of termite is responsible for the most of the damage that is done to homes and businesses.
Formosan termites look very similar to eastern subterranean termites, which makes it difficult to decipher between the two. These termites look like a creamy brown to dark brown color with antennas.
---
Industry-Leading Termite Treatments
To eliminate termites in your home or business, Bug Man Exterminating uses the most proven products in the industry:
One of the best known names in termite prevention, Termidor uses a unique termite-to-termite transfer effect that yields 100% colony elimination, time after time. Termidor termite treatment gets rid of all the termites in your lynchburg, va home and prevents them from returning.
Eco-Friendly Pest Control
For Green Termite Control, Bug Man uses Nisus' Bora-Care product. Nisus provides strong, effective products that kill unwanted pests while providing the lowest possible impact to the environment.
We use Nisus termite control products to protect your home while maintaining our commitment to green pest control practices.
Termite New Construction Pre-Treatments
Bug Man offers a termite pre-treatment service for new construction projects and other applications. Our Roanoke termite experts use Bora-Care products to treat the structure as it's being built, ensuring that your home receives long-term protection from termites.
Hire Termite Control Near You
Termite infestations are not a pest infestation you can get rid of on your own. The only way to completely exterminate a termite infestation is to get professional termite treatment near you. At Bug Man Exterminating, we can help!
We have been preventing termite infestations with our unique treatments for almost 30 years! Our experts know the ins and out of a termite control to ensure you get the most effective treatment! Contact us today to schedule an appointment or get a free quote.