Termite Control & Treatment Experts
Roanoke's Local Termite Exterminator
Have a termite infestation? Just want regularly scheduled preventative treatment for termites? Either way, Bug Man Exterminating has you covered. We've been preventing termite infestations with our unique treatments for almost 30 years! Our experts know the ins and outs of termite control, and will ensure that you get the most effective treatment! We'll make sure to conduct regular follow-up termite inspections and monitor your home to identify new termite activity so that your property is termite-free.
Give us a call at 540.345.2200 or click the button below to schedule your free inspection!
---
Signs of Termites
A termite infestation should not be taken lightly. Depending on the type of termite invading your home the damages could be serious! The only sure way to know if you have a termite problem is to schedule a termite inspection. But there are some telltale signs we can share with you!
What are some signs of a termite infestation?
Discolored drywall
Peeling paint or wallpaper
Extremely squeaky floor boards
Windows and doors are harder to open
Mud tubes around your foundation
Small holes in walls or furniture
When you see any of these signs, give Bug Man a call. We'll come to do a termite inspection for free.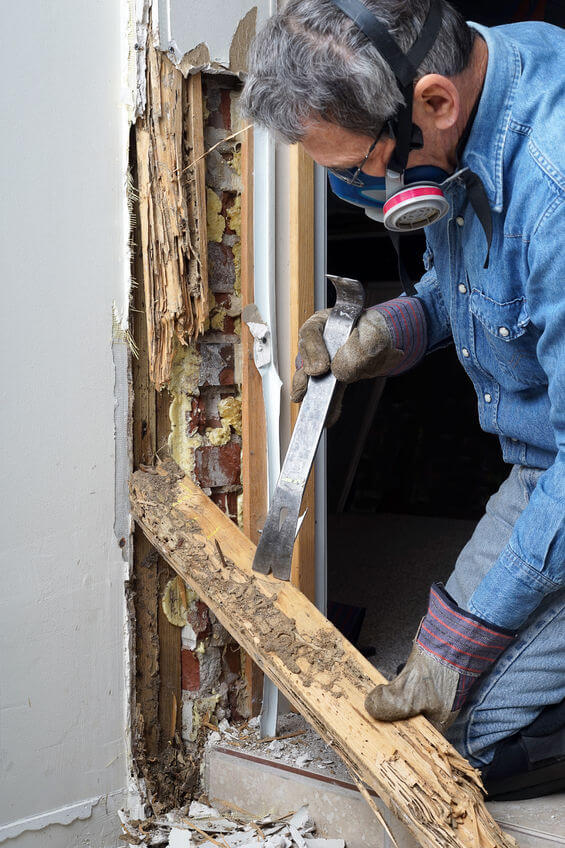 ---
Our Process
One of the best-known names in termite prevention, Termidor, uses a unique termite-to-termite transfer effect that yields 100% colony elimination, time after time. Termidor termite treatment gets rid of all the termites in your home and prevents them from returning. Watch the video below to show how the Termidor HP works to get rid of termites.
Looking for an eco-friendly way to get rid of termites? No problem. Bug Man uses Nisus' Bora–Care to provide strong, effective products that kill unwanted pests while providing the lowest possible impact to the environment.
Cost of Termite Treatment
There is never a flat rate for any termite treatment. It depends on the number of gallons per linear footage required to ensure your termite problem gets taken care of. Although this may not be the answer you're looking for, we're more than happy to come out to do a termite inspection and give you an estimate, all at no cost!
---
Types of Termites
There are tons of different kinds of pests in Southern Virginia. When it comes to termites, there are two types of termites that are commonly found.
So, what are the different types of termites in Southern Virginia?
Eastern Subterranean Termites
Eastern subterranean termites are the most commonly found termite in the nation. You can find them in almost every state! These termites are relatively small and can be any color from white to dark brown. Other than identifying them by their color, one dead giveaway that you have subterranean termites in your home is finding mud tubes.
Formosan Termites
Formosan termites are considered one of the most aggressive termite species. This type of termite is responsible for most of the damage that is done to homes and businesses. Formosan termites look very similar to eastern subterranean termites, which makes it difficult to decipher between the two. These termites look like a creamy brown to dark brown color with antennas.