Don't put up with pest infestations at home. Call Bug Man Exterminating, the area's trusted resource for effective pest control treatments in Roanoke, Salem, Christiansburg, Blacksburg, Lynchburg, Botetourt, Vinton, and surrounding areas.
Whether it's cockroaches, termites, mice or other pests that have invaded your home, our highly-trained and fully certified exterminators will eliminate the problem in no time. Bug Man Exterminating also provides solutions for mosquitoes and stink bugs, two common pests in Southwest Virginia.
Green Pest Control Specialists
At Bug Man Exterminating, we know that protecting the environment is important to you. That's why we offer green pest control solutions and use industry-leading green products from Nisus, BASF and LG.
Our green pest management experts are committed to using Integrated Pest Management (IPM) methods and to providing effective, eco-friendly pest treatments. We protect today for a greener tomorrow in Roanoke, Lynchburg, Salem, Botetourt, Smith Mountain Lake, Salem, Vinton, Christiansburg, Blacksburg and surrounding areas!
Mosquito Reduction Program
When mosquito season begins, it is important to protect your family. Our mosquito reduction program will reduce adult mosquito population and eliminate eggs from becoming biting adult mosquitoes. At Bug Man Exterminating, we provide reliable and experienced mosquito control service programs to reduce mosquito populations that threaten your family or property. Mosquitoes are a top transmitter of disease. Call today to learn more about effective mosquito reduction program.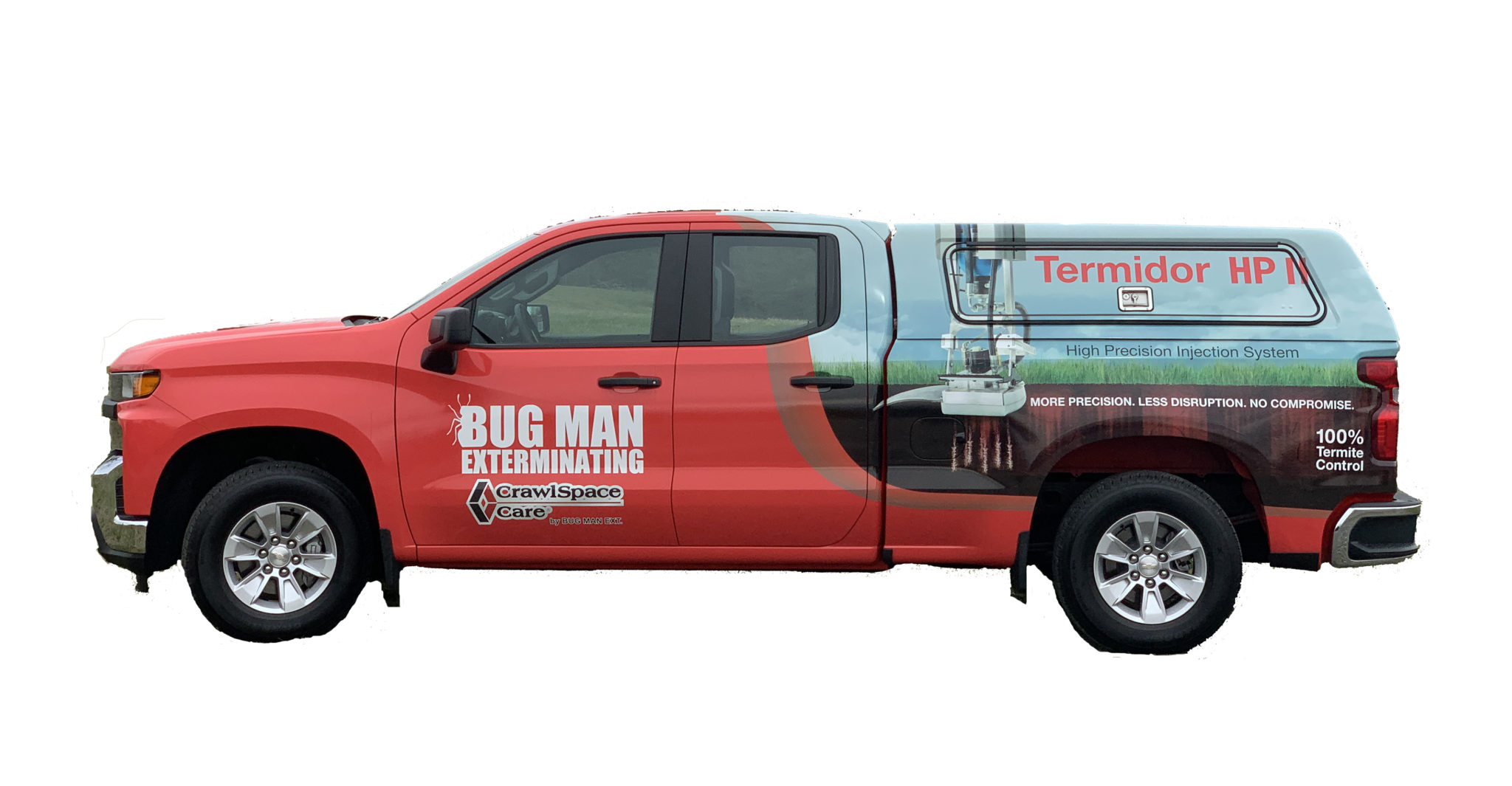 We've chosen the most effective eco-friendly pest management products so you can rest assured that you're protecting the environment and protecting your home from pests at the same time.
Termite Control, Green Pest Control & More
Specializing in green and organic pest control, Bug Man Exterminating provides treatments for all your pest management needs. For everything from spiders to silverfish, our pest control professionals are the ones to call in Roanoke, Christiansburg, Blacksburg, Salem, Lynchburg, Bedford, Franklin County, Pulaski and surrounding areas.
All of our technicians are extensively trained and undergo rigorous tests to comply with GreenPro and QualityPro standards. When we say, "quality and service first," we mean it. At Bug Man, our priority is providing excellent service and effective pest treatments, all at the best cost-to-service ratio in the industry.
The Roanoke, VA Bed Bug Specialists
If your home's been infested with bed bugs, you've probably tried everything to get rid of them yourself—without success. That's because truly effective bed bug treatments require a level of technology, experience and expertise that most homeowners simply don't possess. Bed bugs multiply rapidly and spread themselves all over your home, making it nearly impossible to get rid of every one, every time. Until now. Click here to learn more
Active Guard – Bed Bug Prevention
Bed bugs multiply quickly and all it takes is one newly introduced pregnant female bed bug (or a few missed eggs) to reinstate the infestation cycle. Once an infestation is established, bed bugs can be extremely difficult to eradicate due to their small size and lifestyle of hiding during the day and only coming out at night to feed on your blood. ActiveGuard™ Mattress Liners are a powerful proactive tool in our arsenal as they kill existing bed bugs within 72 hours and significantly reduce the chance of future outbreaks. ActiveGuard™ Mattress Liners are odorless, thin and breathable, soft and comfortable mattress liners that you won't even realize are there. Take charge today and call us for more information about ActiveGuard™ Mattress Liners!
During quarterly pest service treatments, we:
Treat your home's exterior to prevent pest from coming indoors
Inspect your home's interior and treat only as needed or requested (if accessible)
Web Out – A Green Spider Web Pest Control Product
Spiders Are No Match for Our Service
On each visit, your technician will kill and remove all spiders and spider webs around the docks & boat slips. This includes above the boat slips, outside light fixtures, under eaves, around soffits and can include web removal from boats if accessible and with owner participation & permission. Then the structure is treated with WEB OUT®, an environmentally friendly product that keeps webs from adhering to the surface for 30-60 days.
Rodent Control
Bug Man – A Leader in Rodent Control for Roanoke and Christiansburg, VA
If pests like mice, rats, and other rodents are coming into your home, Bug Man Exterminating can get them out. With our rodent pest control, identification, and extermination expertise, we can make sure mouse are never in your house! Don't risk your family's health! Our pest control solutions work better than just standard mouse traps, we have powerful treatments and bait that will eliminate your problem, not just trap it. Mice extermination is just one of our pest control specialties and we're here to make sure they're no longer your problem.
Protect Your Home with Rodent Prevention and Control from Bug Man!
Bug Man's powerful mice control and rat control solutions are available to customers at any stage of an infestation – both during and after rodents invade your home. Our rat control eliminates human exposure to rodent diseases and is effective enough to control rodents in and around the home. This is achieved by:
Eliminating any possible food sources for rodents
Sealing and proofing even the smallest entries into homes
Setting up bait and poisons that are effective
Successfully trapping rodents found inside and outside of the home
Effective and Humane Rodent Control Where You Need it Most
Bug Man Exterminating uses the latest and most effective treatments to get rid of rodents. We use solutions that provide fast, powerful, and humane kill of mice and rats. The traps and baits will ensure mice are eliminated by working quickly and preventing escapes. We also know exactly where to use rat and mice control traps based on a thorough rodent inspection of your home to determine high-activity areas for rodents. Bug Man rodent control services will place the appropriate amount of traps and baits exactly where it counts to kill the most mice the first night. With Bug Man Exterminating, you can rest assured that mice will no longer be a problem in your home!