Termites are tiny pests that can cause huge problems for your home. Unfortunately, termites live in every U.S. state except for Alaska. That means that termite damage can affect your property in Virginia.
The most common type of termite found in Virginia homes is the Eastern subterranean termite. Although drywood termites exist, they are rare in the area.Eastern subterranean termites often swarm in the spring. They eat wood and need moisture to survive. You can prevent an infestation by altering their habitat. If it's too dry, they won't take up space in your home.
Eliminating sources of moisture, such as plumbing leaks and debris next to the house can help you avoid an infestation. But prevention isn't always possible. If you already have termites, you need to treat them before things get worse.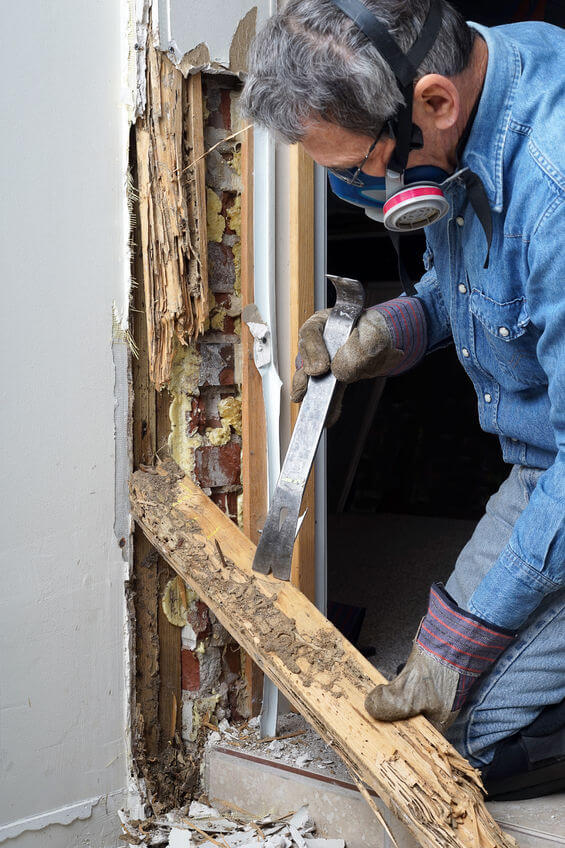 ---
What Does Our Termite Treatment Entail?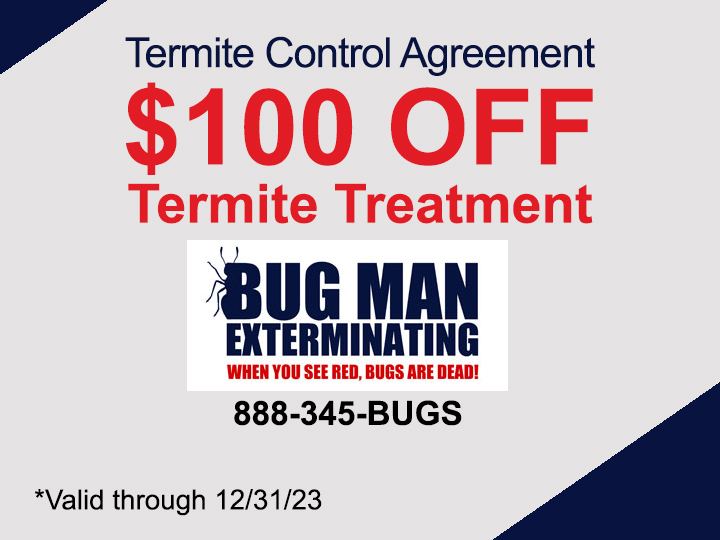 Termite treatment is more advanced than it used to be. Bug Man offers different treatments depending on your needs and situation.
If you use a termite repellent, the pests can detect the application of the chemical. They'll navigate around it and recruit their friends to follow them.
To eliminate termites in your home or business, Bug Man Exterminating uses the most proven products in the industry:
Termidor and Termidor-HE
Termidor is a liquid that destroys termites in several ways. It kills the pests that come in contact with or consume the treatment. The chemical stays in the soil, continuing to get rid of termites for long after it is applied. It may be effective for longer than other liquid termite treatments, and it prevents the insects from returning.
One of the reasons that Termidor is so effective is that it spreads from termite to termite. Therefore, a single application can get rid of the entire colony. Termidor effectively controls subterranean and drywood termites.
Termidor is virtually odor-free and provides reliable termite protection. Bug Man applies it directly to the exterior perimeter of your structure or the walls of your foundation. It binds to the soil, creating a protective treatment zone. We will conduct regular follow-up termite inspections and monitor your home to identify new termite activity so that your property is termite-free.
Bora-Care
We also offer an environmentally friendly treatment option. Bora-Care controls wood-destroying insects and fungi with minimal impact on the environment. It contains borate mineral salt as the active ingredient and has a low toxicity. We can apply Bora-Care directly to infested wood using a high-pressure mist or foam.
---
---
Pre-Treatment for New Construction
We use Bora-Care as a pre-treatment for new construction projects. Treating the entire area before the home is built ensures that there are no gaps in coverage. When we apply Bora-Care directly to the wood during construction, we eliminate it as a food source.
Benefits of Treating Your House for Termites
Getting a professional termite inspection and treatment can help manage and prevent termite damage. It also gives you peace of mind.
Termites are difficult for the average person to detect. We'll help you find out whether termites are a problem and get rid of them for good if we see signs of termite activity. Plus, professional termite extermination can prevent the pests from returning.
Bug Man knows exactly how to use and apply the products while keeping your family and pets safe. We will keep records so that we provide regular service and you never miss a treatment.
If you're wondering how to get rid of termites or how to find termite control near me, you've come to the right place.
Contact us to ask questions or schedule a free quote or termite inspection.